IB Money Manager Marketplace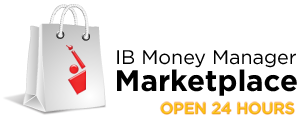 IB's Money Manager Marketplace is the first electronic forum designed to connect Wealth Manager and Money Manager Advisors.
Wealth Managers
Wealth Manager Advisors who focus on the gathering of client assets connect with Money Managers who have expertise in trading equities, options, forex, and bonds domestically, or across international markets.
Professional Advisors assume the role of Wealth Manager by assigning registered Money Managers to multiple clients for trading purposes.
Focus on gathering customer assets while taking advantage of specific trading expertise of registered Money Managers.
Add client accounts, fund client accounts, set client fees and set client trading permissions in Account Management.
Money Managers
Money Manager Advisors advertise their trading expertise and gain access to a large pool of potential new clients. Access to IB's sophisticated trading platform, the TWS, and superior worldwide trade execution across multiple asset classes is included.
Money Managers open IB Money Manager accounts, then accept client trading assignments from Wealth Managers.
Focus on client trading and leave client marketing to the Wealth Manager.
Log into a single screen and trade for multiple clients across multiple Wealth Managers.
Allocate trades to a subset of assigned clients for multiple Wealth Managers.